The students of Brent House at Trinity College School (TCS), better known as Brentlemen, spent a recent Sunday working on habitat restoration at Northumberland Land Trust's Laurie Lawson Outdoor Education Centre.
The property contains several vernal pools (those that only fill up in the springtime).  The property had a number of dead and dying trees that posed a threat to public safety so they were cut down earlier this year.   Some of the debris from the tree clearing had fallen into one of the main vernal pools, which serves as an important habitat and breeding location for many frogs, salamanders and other aquatic species.  The debris was impacting the health of the habitat.
Armed with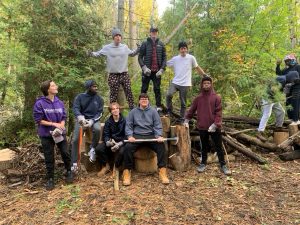 pitchforks, wheelbarrows, rakes, shovels and work gloves, the Brentlemen tackled this project.  Within an hour, the area was once again cleared and ready for next spring.
"It was also fantastic to spend time out in nature," said Campbell Hall, Head of House at Brent Hall at TCS. "The boys came away with a sense of having accomplished something meaningful."