Rob Kennedy, President
Rob joined the Board in 2021 with the merger of the Northumberland Land Trust (NLT) and the Lone Pine Land Trust (LPLT). He joined the Board of LPLT in 2014 and eventually became President. He represented the LPLT in merger talks with NLT and is now serving as the President of the merged entity.
He graduated in 1981 from the University of Waterloo with a degree in civil engineering. His family moved to Northumberland County in 1992. Rob, along with his brother and cousin, started up Peak Engineering & Construction Ltd. The three partners sold the company to their employees and retired from the business in 2014. Rob has served on numerous Boards over the years, including his local church. Rob is married to fellow Board member Freda Kennedy, and they have four daughters. Rob and Freda donated the land that is currently the NLT's Kennedy Reserve. They live on 300 forested acres north of Grafton, which they intend to donate to the NLT.
"My love for nature came early in life during family hikes on the Bruce Trail and camping holidays," said Rob. "After retiring from business, I decided to pursue my passion and love for nature and joined the Lone Pine Land Trust Board."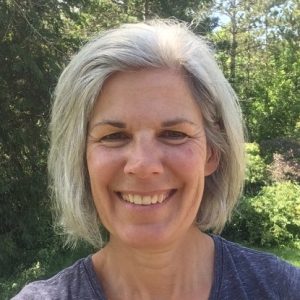 Leslie Abram
Leslie joined the Board in 2021 with the merger of the Northumberland Land Trust (NLT) and the Lone Pine Land Trust (LPLT). She joined the LPLT in 2019, and is currently the property steward for the Lone Pine Marsh Braham Nature Reserve.
She graduated from Queen's University in 1985, and later returned to obtain her teaching degree. She taught in the Hastings Prince Edward District School Board for 22 years.
Leslie and her family moved to Northumberland County in 1996. Since retiring from teaching, Leslie has been pursuing her passion for birding and wildlife photography.
"As a retired teacher, I love igniting people's curiosity about the amazing living things that share our earth," says Leslie. "I encourage people to get outside, look closely, and reconnect with nature."
John Davidson
John joined the Board in 2021 after the merger of the Northumberland Land Trust and the Lone Pine Land Trust.
John graduated from York Mills CI, Toronto in 1961. Following a flirtation with a career in medicine and the Canadian Navy, he joined Clarkson Gordon (now Ernst & Young) and obtained his CA with Honours in 1968. In 1995 John retired from EY and continued his career on a part-time basis as a consultant.
During his years in Toronto, John served on several professional committees and volunteered with Red Cross Blood Services, Planned Parenthood and Owl Children's Trust, publisher of children's magazines.  John and his wife Irena moved to Port Hope in 2007. In 2010 he became a Founding Director of Northumberland 89.7 FM, our local community radio station, and later served for a year as Treasurer of the Art Gallery of Northumberland. John currently is an active Rotarian and on the Boards of Port Hope Heritage Foundation and Northumberland Arts Gallery and Shop. John is married with two children, and six grandchildren. He enjoys European travel, sailing, skiing and Italian cooking.
"My Road to Damascus conversion, to the cause of preserving our natural heritage, came in 1998 and 1999, as I single handed my 30 foot Nonsuch, anchoring in out of the way nooks and crannies of Georgian Bay," says John.  "There were many moments of spiritual re-awakening. The work we do at the Land Trust will ensure that my neighbours and their descendants and mine can have that same opportunity. "
Robert Fishlock
Robert joined the Board in 2021 with the merger of the Northumberland Land Trust (NLT) and the Lone Pine Land Trust (LPLT). Before the merger he was a director since 2017, and President of the Northumberland Land Trust for two years.  Robert represented the NLT in merger talks with LPLT.
He has an undergraduate degree from Trent University majoring in Politics and Geography, and obtained his law degree from Queen's in 1985. Up until 2012, he was a partner with the national law firm of Blake, Cassels & Graydon LLP, where he practiced for more than 27 years in all aspects of environmental law, particularly with respect to the regulation of industrial activities and the protection of air, water and land resources. He was senior legal counsel with the Port Hope Area Initiative project from 2012-2021, which was charged with the cleanup of historic low level radioactive waste in the communities of Port Hope and Port Granby, Ontario.
Robert is now retired. He and his wife Urszula reside in Port Hope where Robert was born and raised. He has been active in a number of local organizations that are committed to the protection of our environment, including the Green Party and Community Power Northumberland, a cooperative that has developed a number of solar energy projects in Northumberland County. He is also a member and former board member of Ontario Nature, a provincial land trust and advocacy group committed to the protection of natural habitats and the wild species that live there.
"I enjoy exploring NLT's nature reserves, the Ganaraska and Northumberland Forests," says Robert. My wife and I also spend time at our semi-remote Haliburton property located deep in the forest on the Irondale River."
George Gordon
George was on the board of the original Northumberland Land Trust from 2006 to 2010 and again since 2013 through the merger with the Lone Pine Land Trust in 2021. He is a Past-president of the NLT Board.
George briefly attended Queen's University before pursuing his interest in environmental issues. In 1973, George joined Canada Post where he had a 30-year career before retiring as a Retail Business Manager in 2003 at age 55. At retirement, he managed 26 stores. Following retirement, George obtained a certificate in Applied Photography and in Creative Photography from Mohawk College, Hamilton in 2005; a Photo Arts Certificate from Haliburton School of The Arts in 2010; and a Visual and Creative Arts Diploma from Haliburton School of The Arts (Fleming College) in 2012.
His wife Margaret and George married in 1976, and settled in Northumberland County in 2005. George has been recognized by the province of Ontario for his volunteer service and by Scouts Canada with a Medal of Merit and a 45-year service pin. He is a past member of the board of Northumberland United Way, the Escarpment Biosphere Conservancy and Past-president of St Andrews-Niagara Housing Development Corporation for seniors.
"I survived a middle-class existence in Scarborough and left at age 19 I left for university vowing never to return," says George. "At university, involvement in saving the world, ending war, peace symbols, long hair, a beard, folk concerts and the 'summer of love' produced an education but not a degree. But the experience created an interest in environmental issues that has followed me to this day."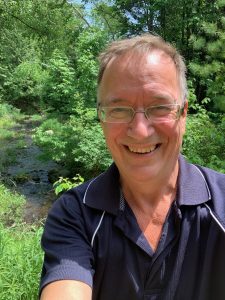 Graeme Harris
Graeme joined the Board of the Northumberland Land Trust in 2023.
He has a Bachelor of Arts degree from Queen's University ('83), a Bachelor of Applied Arts (Journalism) from Ryerson Polytechnic ('85) and attended the Université de Paris (Sorbonne). He retired in 2017 after more than 30 years in corporate communications when he advised C-Suite executives at BMO, RBC, UBS and Manulife. In 1994 and 1995 while based in Paris attending the Sorbonne, he spent time in Kyiv and acted as an international liaison for multinational companies wishing to set up businesses in Ukraine. He was also a media relations instructor for the government of Ukraine and UNESCO.
Graeme has divided his time between Northumberland County and Toronto since 1996 when he and his partner purchased a 72-acre property at the headwaters of the Shelter Valley watershed. He has served on several volunteer Boards including the Red Door Family Shelter, the National Magazine Awards Foundation, the Glenn Gould Foundation Gala, and is currently on the Board of the Canadian Journalism Foundation. He is a past member of the Arthur W. Page Society.
"We realized that we were stewards of an important piece of wildlife habitat in Northumberland County," says Graeme. "We took a course in silviculture at the University of Toronto, and maintain the property to ensure a healthy forest, field, and stream."
Richard Holland
Richard joined the Northumberland Land Trust's board in November 2020, and he now serves the merged Board as Treasurer.
After more than 30 years in the banking industry in the UK & Canada he joined the Ontario Public Service and managed the finances of projects in five ministries before retiring in 2016.
Richard and his wife Sarah moved to Northumberland County in 2000, first to Cobourg and then four years later to the Northumberland hills, midway between Grafton and Baltimore. He has served as the treasurer of the local branch of the Architectural Conservancy of Ontario and continues to serve on the Northumberland Hills Hospital Auxiliary board, managing its finances.
"I first became aware of the Northumberland Land Trust in 2017 when our neighbours were considering donating part of their property to the Trust," says Richard. "That donation was completed in December 2019 and we now overlook the Bonebakker Nature Reserve."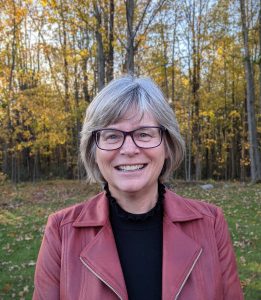 Freda Kennedy
Freda joined the Board in 2021 with the merger of the Northumberland Land Trust (NLT) and the Lone Pine Land Trust (LPLT). She had joined the Board of LPLT in 2018.
Freda graduated with a natural science degree from Calvin College, in Grand Rapids Michigan, followed by a degree in Occupational Therapy from University of Toronto. She worked as an Occupational therapist until she retired in 1998.
She is married to fellow Board member Rob Kennedy and they moved to Northumberland County in 1992 where they brought up their four daughters. Freda and Rob donated the land that is currently the NLT's Kennedy Reserve. They live on 300 acres forest north of Grafton, which they intend to donate to the NLT. Freda volunteered at Trenton Christian school and Brighton Fellowship Christan Reformed Church and was on their Boards as well as on the Board of the Ontario Alliance of Christian schools. She is currently on the board of Edvance Christian Schools Association, Dunamis Fellowship Canada and volunteers at the Pregnancy and Family Care of Quinte West.
"I strongly believe in the Northumberland Land Trusts' objectives," says Freda. "Rob and I want to ensure that the people of the county and those that visit will be able to enjoy nature and develop an appreciation for the preservation of pristine habitat."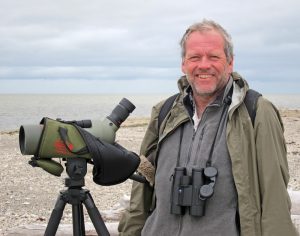 Doug McRae
Doug joined the Board in 2021 with the merger of the Northumberland Land Trust (NLT) and the Lone Pine Land Trust (LPLT). He became involved with the LPLT in 2006 as a volunteer, then joined the Board shortly afterwards. He is also currently the Steward for the NLT's McColl reserve.
After graduating high school Doug began working as a field biologist. For 20 years he worked as a senior guide with North America's top-ranked bird tour company, Field Guides Inc, required extensive international travel. His career also involved research studies in various parts of Canada, Finland and Cuba, Park Naturalist at Algonquin and Presqu'ile Prov. Park, biological inventories, guiding, consulting, and education. He is currently teaching a 2nd year Ornithology course at Fleming College, and a 1st year Wildlife Observation Skills course.
Doug has lived in Northumberland Country since 1984, and has a lakefront property near Brighton which he plans to donate to NLT once habitat restoration initiatives are complete. He has been published extensively in newspapers, scientific, and popular journals. He was a founding member of the Ontario Field Ornithologists and the Ontario Bird Records Committee and has served on the Board of OFO and several naturalists clubs.
"After nearly 50 years in the conservation field I truly believe that Land Trusts are the most cost-effective and certain way to protect important biological features forever. We are not influenced by competing pressures or the politics of the day but rather by the simple principal of protecting land and managing it for its biological health and diversity. We all know that our natural environment is under great stress right now and for me, NLT is where I go to find hope"